Are you looking for an excellent place to eat pho in Hanoi? Check out the 8 best pho in Hanoi to ensure you don't miss out on the best bowl of Pho.
Bạn đang xem: Where To Find The Best Pho In Hanoi, Vietnam, The Best Pho In Hanoi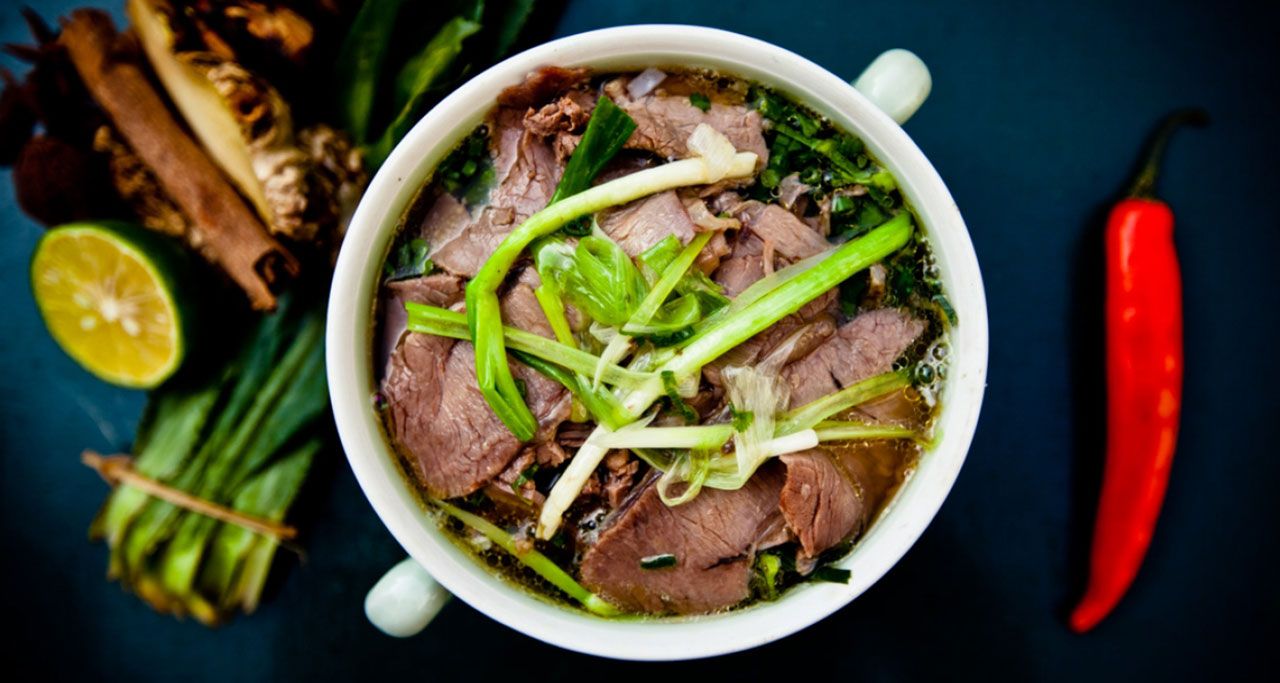 Photo by Vietnam Travel
Are you looking for an excellent place to eat pho in Hanoi? Check out the 8 best pho in Hanoi to ensure you don"t miss out on the best bowl of Pho.
Because Pho originated in Hanoi, there is no better place to eat it than there. You can find pho anywhere in Hanoi, but pho in Hanoi Old Quarter is the most famous. Wafting through the air is the sweet aroma of star anise and cinnamon soaking in broth from simmering beef bones, leading you around the corner and down a narrow alley. The smell is on nearly every street. Continue on reading if you want to know 8 locations in the Old Quarter to find the best pho in Hanoi.
Pho 10 Ly Quoc Su
When you ask Hanoians which pho restaurant they prefer, Pho 10 Ly Quoc Su is unavoidably mentioned. Because of its fame and the quality of its pho, this restaurant now has three locations in Hanoi. The best one is still the original location down Ly Quoc Su Street near Hoan Kiem Lake and St. Joseph's Cathedral.
Pho 10 Ly Quoc Su in Hanoi Old Quarter. Photo by machohigh
As usual, the pho bowls here are prepared to perfection. The broth is subtle, with no one flavor overpowering the others; the noodle perfects and the meat is tender. There are six different pho available here, all with beef and prepared differently depending on your preferences. Want to eat Pho like a Hanoian? Don"t forget to get some "quẩy" (dough sticks) to dip into the soup and eat with your noodles.
Besides the excellent pho, the service is prompt. You can observe the pho chefs as they prepare the dishes with speed and precision behind glass doors. Pho 10 Ly Quoc Su is the most well-known restaurant in Hanoi, so it"s no surprise that it"s leading to this top list.
Address: 10 Ly Quoc Su, Hoan Kiem, HanoiOpening hours: about 6:30 am – 2 pm dailyPrice: 60,000 – 85,000 VND/person. It"s not cheap, but it"s about average for a popular authentic Hanoi pho brand.
Pho Bat Dan
When you see a classic Vietnamese restaurant with locals queuing outside while the inside is packed, you know you"re getting good pho. Pho Bat Dan is a restaurant like that.
Since Pho Bat Dan restaurant is self-serve, you must wait in line, then find a table for yourself. Be patient, and you"ll be rewarded with one of Hanoi"s most authentic bowls of beef pho.
Pho Bat Dan - one of the oldest Pho restaurants in Hanoi. Photo by Mia
Xem thêm: vải màu đen được gọi là vải gì?
This pho joint has been there since the 1960s, preserving the same, consistent recipe that has remained unchanged since. That's why Hanoians enjoy the taste of pho bowl here because of its traditional flavors. The broth is clear and rich, with a subtle blend of many flavors. Plus, the beef is tender and soft, with a glowing pink hue.
Especially, unlike other Hanoi Pho restaurants, they do not serve lime with their soup. They assume that because the broth is so delicious; you don"t need to add it, and they are unquestionably correct.
Address: 49 Bat Dan, Hoan Kiem, HanoiOpen hours: 6 am – 10 am and 6 pm – 8:30 pm dailyPrice: from 50,000VND /bowlTip: Go to Pho Bat Dan with two people so that one person can wait to buy Pho and the other can keep the table. Weekend mornings are especially crowded. So avoid these busy hours if you don"t want to face the unending waiting.
Pho Vui
If you stay in a hotel on Hang Giay Street in the Old Quarter, you can come here in the morning to enjoy the unique pho. Besides beef noodles, the restaurant also serves a variety of Pho, including beef noodles with thinly sliced steak and beef noodles with fried steak with garlic.… The broth is so delicious and slightly thicker than at other Pho restaurants.
Pho Vui had been operating for over 30 years. Photo by Thanhnien
The restaurant"s name translates to "happy". So it may remind everyone of the satisfaction that comes with enjoying a bowl of Pho here, delicious and also happy at the end of the meal!
Address: 25 Hang Giay, Hoan Kiem, HanoiOpen hours: 6am - 2 pm & 4 pm - 11 pm dailyPrice: 40,000 - 50,000VND /bowl
Pho Suong
Pho Suong, like all famous pho restaurants in Hanoi, has been around for a long time and has a loyal customer base. "Suong" in Vietnamese means "satisfying". According to the owner, the restaurant was named to trigger people's interest. It also refers to the satisfying feeling that they want their customers to feel after eating their noodles.
Pho Suong restaurant located in Trung Yen alley is a familiar destination for many diners who love Hanoi pho. Photo by Dantri
Pho Suong is known for its unmistakably Northern flavor. The pho here is amazing, perfecting clear broth, the noodles, the herbs, vegetables, and the pieces of tender beef. Besides, Pho Suong has the nicest interior of all the pho restaurants in this article.
Address: 24B Trung Yen, Dinh Liet, Hang Bac, Hoan Kiem, HanoiOpening hours: 5:30 am - 11 am & 4:30 pm - 9:30 pm dailyPrice: 40,000 – 50,000 VND/bowl
Pho Ga Lam
Xem thêm: like auth là gì
While traditional pho is cooked with beef, you may order a chicken-based version here. This restaurant serves the greatest pho ga (chicken pho). Pho Ga Lam has been operational for over forty years. It's run by an older woman named Lâm.