HA GIANG – CAO BANG – BA BE
Enjoy a comfort car ride all the way from Ha Giang to Cao Bang and Ba Be!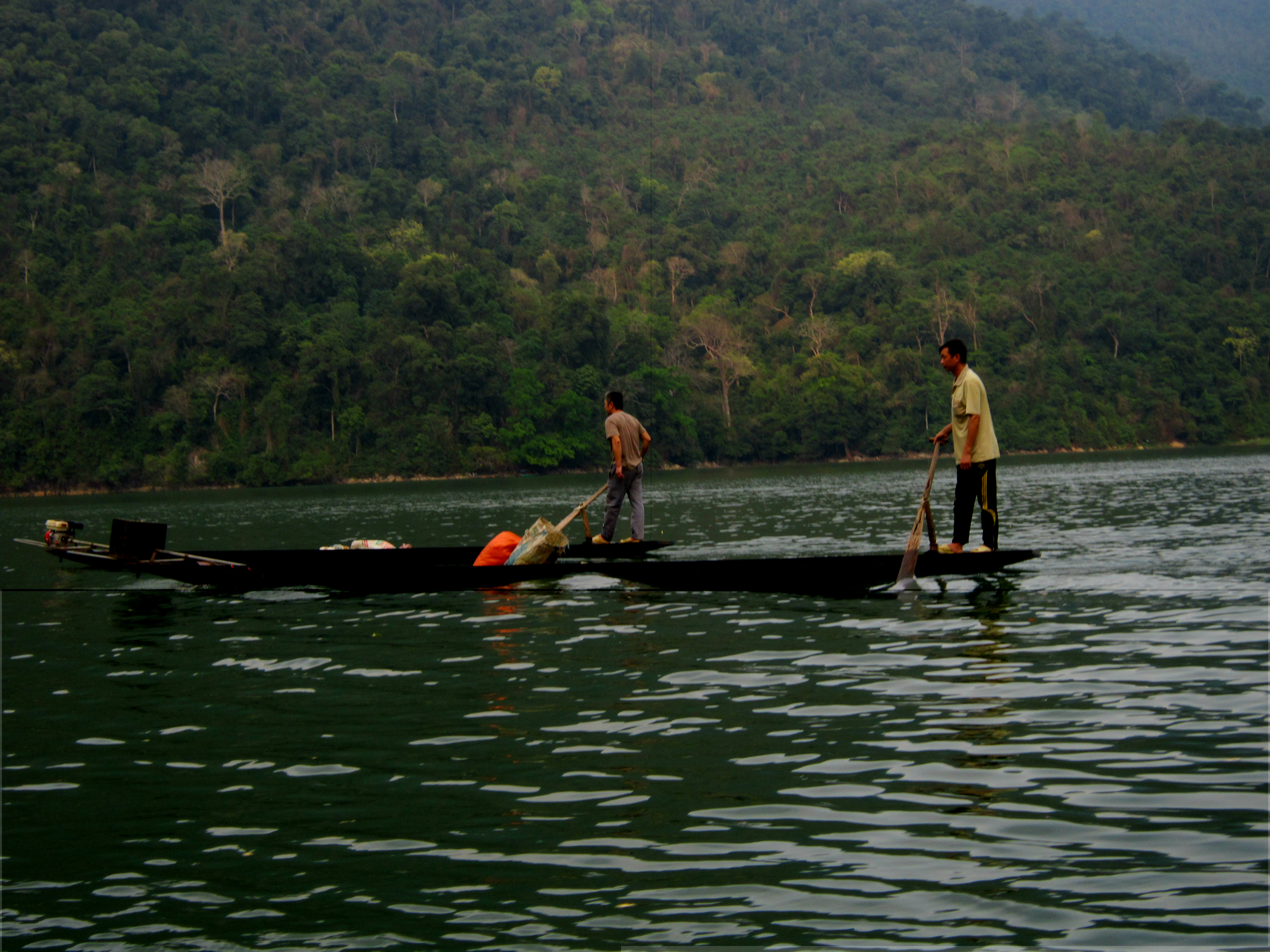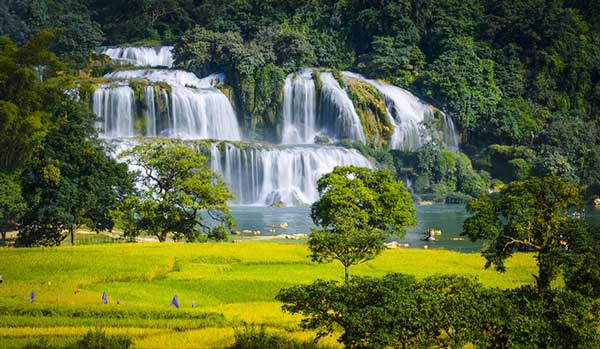 Your tour guide and driver will pickup you at 7.30 AM at your hotel lobby and will arrive in Ha Giang around 1:30PM. Then check-in homestay and enjoy your free time there by walking around to visit some local families and explore its landscape. You can also trek to Ha Thanh waterfall and enjoy the great view here.
Bạn đang xem: Motorbike: Ha Giang To Cao Bang Explorer 6 Days For 2021 And 2022
Overnight at a local bungalow.
After having breakfast, you will continue with your adventure, reaching Quan Ba twin mountain and Heaven's Gate.
Your adventure will continue to H'Mong King Palace which was a royal family of high rank during French colonial rule – this palace attracts keen interest from architecturally minded visitors due to its mixed style of European and Chinese architecture.
Then visit Lung Cu National Flag Northern pole where is super closed to China border gate.
Overnight at a hotel in Dong Van town.
07.30 AM: start the day off with breakfast and a visit to Ma Pi Leng Pass to give you a chance to immerse in the magnificent and spectacular views. Lunch will be served at a local family. Before taking a boat trip, let start and warm up yourself today with a trek around stunning Spypath road to a Flower H'mong village where you can reach the peak of Ma Pi Leng mount. Trek through rocky mountains and you will be surprised of the local survival on rock. In the afternoon, if the weather is nice, our driver and guide will then transfer you to Meo Vac where you will have a great opportunity to take a boat tour along the Nho Que River. That will be a great unique experience. Overnight at a hotel in Meo Vac.
NOTE: Please note that there will be rainy sometimes and there will be too much water in the river and which causes dangerous if we travel on the river under the heavy rain. We must skip the Nho Que boat trip and go walking to visit a White H'mong village on skypath on Ma Pi Leng peak.
It will be a long drive from Meo Vac to Cao Bang therefore, we will not stop much on the way. There will be a short trek in the middle of the way for you to enjoy the landscape and learn more about the locals around.
Please feel free to ask if you want to stop somewhere else in between. Once you arrive in Cao Bang, you then check-in your hotel and take a walk around the town.
You will depart for one of the biggest waterfalls in Vietnam. Nestled amongst these amazing landscapes of Trung Khanh is the breath-taking Ban Gioc Waterfall, which spans over 300 meters, split half and half between Vietnam and China. You'll get some time here to simply take in the amazing atmosphere surrounding the falls, which presents an excellent opportunity for some fantastic photography.
Nguom Ngao cave is a must-see place once you arrive in Cao Bang. The cave of 300 million years old is a valuable gift of nature spending for this wonderful land. Tourists explore Nguom Ngao cave for its mysterious space created by marvelous stalactites on one side and an interesting legend behind the special name. The cave owns a total length of nearly 2200m with three gates and thousands of small grottos. Overnight at a homestay here.
After enjoying breakfast in your homestay family, visit Phuc Sen forging village. It is said that this village was established in the 11 th century. In the early days, the villagers produced weapons for the soldiers of Nung Ton Phuc and Nung Tri Cao to fight against the Song army. After the war, they made farm and domestic tools such as ploughs, hoes, knives and scissors. It is also said that the villagers used to cast cannons and grenade casings, especially during the resistance war against French colonialism. Thus, this craft village has a long tradition of forging.
After spending time in the big waterfall, you will depart to Ba Be and spend your night in Pac Ngoi.
Today, it is a special day for you to learn more about different ethnic minority groups in Bac Kan. Within a day, your guide will take and introduce you to 3 different ethnic groups. You will see the difference in their dress, culture, behavior… They belong to Dzao, H/Mong and Tay group. It will be a perfect day to interact with local people and enjoy the peaceful villages over the rice terrace or hidden in the jungle.
Xem thêm: tôn trọng người khác là gì
Also chilling at Ba Be Lake on an exciting boat trip.
Explore this wonderful natural lake located in Ba Be National Park on a boat trip. You will discover beautiful and dramatic landscapes and authentic culture. You will travel on our local boat on the Ba Be Lake first visiting the Puong Cave, famous for its thousands of bats. You will continue down the Nang river to see the Dau Dang Waterfall before having lunch at a nearby village restaurant on the banks of the river.
Overnight at the same homestay.
Breakfast will be served at 07:30 before setting off for your exciting day in Ba Be National Park.
After breakfast at the homestay, we will do cycling to experience the Ba Be forest at close quarters. You will cycle by the slow flowing river, gaze in awe at the dramatic mountains and valleys and natural caves and may enjoy a little bird and butterfly spotting with romantic rice fields around. The national park is home to countless numbers of flora and fauna. On the way, we will pay a visit to Hua Ma cave, only recently accessible, as few locals would enter due to ancient beliefs. The cave has thousands of stalactites and stalagmites and is still very atmospheric. Then depart back to Hanoi. The tour ends in Hanoi at your hotel.
Itinerary subject to change or cancellation due to weather conditions.
Included: Ground transport, English-speaking guide, accommodation, activities & meals mentioned above. Not included: Airfares, visa fees, travel insurance, gratuities, personal expenses & all other services not clearly mentioned above.
Authentic
We give local people employment, income and learning opportunities so they are directly involved in your tourism experience. Our guides and hosts will give you a special insight into culture and life in Vietnam.
Responsible
We aim to minimise the negative impacts of tourism on the environment and the local community while contributing positively to local economies. We don't just talk responsible tourism, we act!
Tours that translate
10% of all profits from our tours go towards a community fund. This money allows us to make infrastructure improvements and provide other important resources to those in need.
Xem thêm: drug test là gì
READY TO EXPLORE HA GIANG – CAO BANG – BA BE?
Select your preferred start date, fill out the form, and we'll get back to you soon with up-to-date prices and availability.
How many people? *12345678910+How do you hear about us? *FacebookGoogleInstagramFriendMissfilatelista blogWander-lush blogOther
"We had vietnamaviation.vn organise a trip to Ninh Binh last March and it was beyond what we had expected. Above all, the guys from vietnamaviation.vn were really helpful and supportive, making our trip wonderfully smooth and memorable."